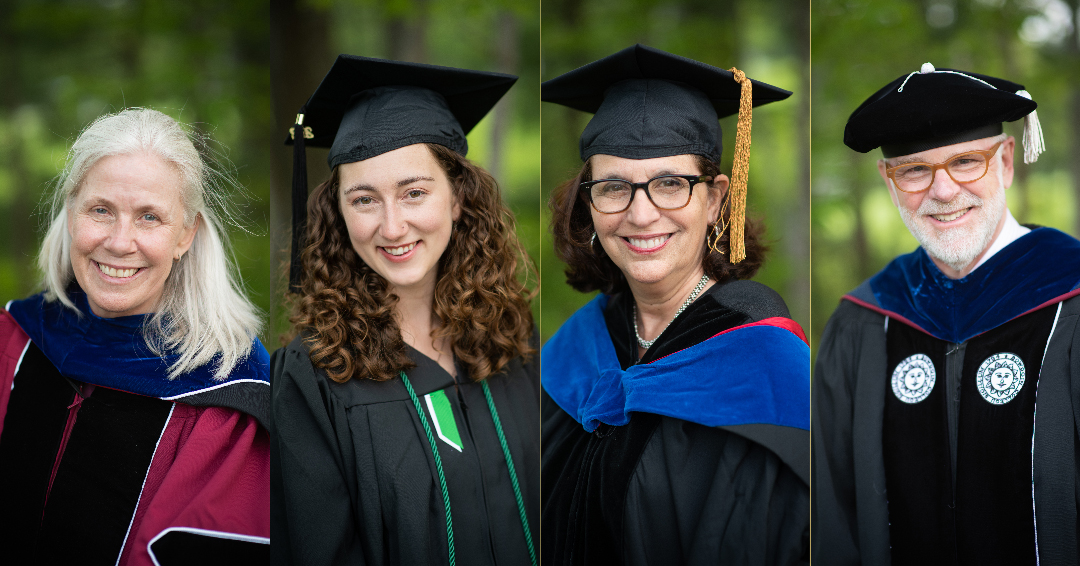 Bowdoin marks the end of the academic year with the baccalaureate ceremony
Bowdoin College held its bachelor's degree ceremony on Friday, May 27, 2022 at Sidney J. Watson Arena, marking the official closing of the academic year. The 217th return to school will take place on Saturday, May 28.
President Clayton Rose, who presided over the Bachelor ceremony, opened his remarks by acknowledging the historic challenges of the pandemic years. He paid tribute to the senior class for succeeding despite them.
"As difficult as it was, you more than rose to the challenge. You looked after each other, you took care of yourself, you adapted and adjusted, and you shaped your upbringing and your Bowdoin experience" , he said.
Reinforcing the notion of perseverance, Rose evokes the Stockdale paradox, named after Admiral James Stockdale, imprisoned for more than seven years in Viet Nam. The paradox comes from a statement Stockdale made in response to a question about how he survived for so long: "You must never confuse the faith that you will eventually prevail – that you can never afford to lose – with the discipline to face the most brutal facts of your current reality, whatever they may be," he replied.
Indeed, Rose noted that not only do those who "do not fully understand the realities of big problems" risk losing hope, but they also risk applying the wrong solution.
After noting many of the "heavy" issues we face today, including war, domestic and political division, the re-emergence of nativism, murder and violence targeting people with marginalized identities, and the horrific gun violence, Rose focused on two dilemmas: equality and how to mitigate climate change.
"The path to racial equity is work that requires an understanding of the structures in place in our society that block equity of opportunity and belonging," he said. "The data is clear on the reality of these structures in the justice system, health care, education, the economy – all aspects of our society. To tackle this problem, these structures must be dismantled.– not an easy task and one that requires concerted effort over a long period of time."
Reducing carbon from our energy sources will require "decades of transition," Rose continued. "Even if the alternatives currently existed at the required scale with the necessary infrastructure, which they do not yet, it would take years to bring about this change without profound economic consequences, especially for the poorest. And that is further complicated by the need for coordinated action on a global scale, which comes up against the challenges of sovereign interest".
But these two incredibly complex problems box be solved over the course of the students' lives – by those with the clearest eyes, he said.
"Change can happen, and it does," Rose continued. "And it is led by those who understand the realities I have described. Let the reality of these challenges strengthen you and motivate you for what lies ahead."
Read the full text of President Rose's remarks.
Readings from Bowdoin's Past
Dean of Student Affairs Janet Lohmann presented "Readings from Bowdoin's Past," a Baccalaureate tradition in which the Dean evokes an aspect of the College's history to reflect on today.
She spoke of Larry Pinette, who retired as Director of Dining Services at Bowdoin in 1989 after thirty years of service at the College. (At that time he invented the famous Bowdoin Log.) Pinette was the son of immigrant parents from Canada and he grew up on the so-called wrong side of the trails in Brunswick.
In the 19th and 20th centuries, Brunwick was divided by the Anglo-Saxon "hillside" neighborhoods around the College and the "millside", where predominantly French-Canadian families lived near the Cabot textile mill (today Fort Andross).
Pinette crossed paths in 1955 when he became head of the fraternity house. Her arrival marked the beginning of a shift in the way Bowdoin viewed food, moving from something everyday to something epicurean.
"Remembering Larry Pinette is paying homage to formal meals and lobster pastries, fresh local fruits and vegetables at every meal, and parsley garnish on every plate," Lohmann said.
Bowdoin always enjoys fresh, locally sourced food. Approximately thirty-five percent of the food served by Bowdoin Dining is locally grown, raised or processed, including vegetables from Bowdoin's organic garden and sap collected from maple trees on campus.
Pinette also took care of the setting up of the meals, and their presentation. When beautiful trays were placed on tables, always furnished, the students behaved better, as "gentlemen", he said.
And he understood the importance of food in cultivating the community. "The meals were about building the capacity for community and connection. The students loved to sit down, eat, connect with each other because Larry and his staff created the atmosphere for those pleasures," Lohmann said.
This culture of connection around good food in Bowdoin continues to be Pinette's greatest legacy. "Community goals — both where our food comes from and what a dining experience aims to achieve — remain an integral part of how Bowdoin restaurants approach their goals," Lohmann said.
Read the full text of Janet Lohmann's remarks.
Student Address: Brianna "Brie" Cunliffe '22
In his remarks, "A Luminous Endeavour", Cunliffe began with a description of a dark sea, "an 'ocean a few miles to the east preparing to be filled with stars'".
She remembered the time when, when she had just arrived in first year, some classmates urged her to dive with them into the black water. What followed was a shock: "a blue-green bloom of a thousand living, warm stars, following the motion of our heaving bodies, dancing in tandem with the burning sky." In that moment, immersed in the stunning beauty of bioluminescence, she knew she was exactly where she was meant to be.
Despite the world's thorny problems – "an all too fragile global peace, a deeply flawed justice system, a world crippled in the face of a climate crisis and the absence of loved ones who were meant to be here today" – he said. she declared, "we sparkle, together, against this uncertain darkness. And yet, as summer returns, the cold ocean of Maine fills with stars."
She characterized the generous enthusiasms of a Bowdoin upbringing as akin to "swimming in cold water, getting above our heads in contradiction, in conversations…". In his case, it also involved "talking to academics and advocates, farmers and fishermen. Talking to people and listening – listening not as a supposedly objective observer, above all else, but with warmth, presence, humanity," she said.
Cunliffe wished his peers good luck: "Wherever you go, whether it's in an elementary school classroom or backstage at a theater, whether it's in the library or out in the back country, I hope you know how you bring the world to life. How your movement illuminates the invisible, how it brings forth new patterns."
"I hope you trust the dark water to fill with abundant light once you take the plunge. I hope you find your own constellation to call home. Thank you for 'lighting up this darkness with me,' she concluded.
Read the full text of Cunliffe's speech.
Bachelor's Address: Raquel Jaramillo P'18
The best-selling author of Wonder, a book about a miraculously kind boy, Raquel Jaramillo, one of five honorary degree recipients this year, shared her thoughts on kindness and the power of her role in our society.
She spoke of being inspired to write Wonder when her son was in middle school, a time when she went through "white fingers" and terrified on behalf of her boy. She was struck by how much her fellow parents, and our culture more broadly, accept that college kids are supposed to be awful to each other.
"I wanted to write a novel for children that would be about kindness, make the case for kindness, put value in it," she said. "I wanted kids to know that there wasn't just a place for kindness, but a need they could fill." Turns out the kids really wanted to hear that message, she said. The adults also wanted to hear it.
Jaramillo is the daughter of Colombian immigrants who came to the United States for love, as they were both divorced and wanted to remarry. In New York, initially speaking no English, they struggled. A former journalist, his father found work as a typographer. His mother, an intellectual from a privileged background, was challenged as a socially isolated housewife.
What got them through those early years were acts of kindness from fellow New Yorkers. Jaramillo recalled a time when her mother dropped a bag of groceries on the stairwell of their apartment building in Queens. A red-haired woman immediately came out of her apartment with a mop and broom and helped clean up the spills.
"It wasn't the first moment of kindness I'd witnessed, but it was the first time I'd recognized it for what it was: a moment of kindness enshrined in an act of goodwill," said she declared.
The world is tough. The world is tough. But the tougher the world, Jaramillo argued, the more kind we should want our children to be. "Wouldn't you rather go through the tough parts of the world with kind people?" she posed.
Tenderness, love, kindness – "these traits have, since time immemorial, transcended family ties and built shared communities, cities and civilizations," she said.
Kindness, she continued, can be used as a motivator and a barometer of progress. "What we need to do is learn to value kindness as a society and as a culture. We need to figure out how to integrate it, not just as individuals, but into the very systems that run the world. world: economically, politically and socially," she says.
She urged the class of 2022, whatever profession or path they choose, to figure out how to make kindness a core value for measuring progress in the world.
"Take it with you wherever you go and whatever you do, not only to your family and friends, but also to your workplaces, to the businesses you start, to the communities you cherish, to the laws you adopt, to the countries you live in," she said. "Value kindness. Prioritize it. Codify it. Normalize it. Legislate for it. Build friendships around it. Take jobs because of it. Quit jobs because of it," a- she declared. "Because if you do that, kindness will uplift everyone and you will truly get the world you deserve."
Bachelor of Music
The audience was guided through renditions of "America the Beautiful" and "Raise Songs to Bowdoin" by singers from the Class of 2022 and pianist Jingrui Liu '22.