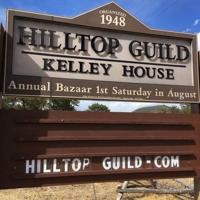 Don't Miss the Annual Bazaar on August 6 at Hilltop Guild in Allenspark | Events
By Elizabeth Sherwin
It's almost here! The Annual Hilltop Guild Bazaar takes place Saturday, August 6 from 9 a.m. to 2 p.m. at the Kelley House, 18720 Highway 7. No entrance fee, plenty of free parking.
Arrive early for the best selection of jellies, including the now famous dandelion jelly that tastes like mountain sunshine. All jellies from crabapple to chokecherry to dandelion and rhubarb will cost $8. No advance sales have taken place this summer so that more jellies will be available for sale on bazaar day.
But that's not all! Several community groups, including The Wind, will have tables at the festival as well as Allenspark Neighbors Emergency Network (ANEN). Vendors will be present to sell jewelry and handmade items. Mary Hunter will offer herbal products and chair massages, Joanna Johnson of Slate Falls Press will offer children's books and watercolor prints, Gini Krattenmaker will offer pillows and fiber art, Susan Lutes and Jeannie Taylor will sell mixed media paintings, Leslie Maya-Charles returns with her handmade jewelry, Jane Morrissey will have wood and fabric gift items, and Susan Platt will have jewelry. Jack Allington will sell farm-fresh eggs.
"This is a great community event offered once a year," said Jennifer Bell, President of Hilltop Guild. "Come join us and remember that the money you spend will go to good local causes like the Allenspark Fire Department and local scholarships."
The historic Bunce Schoolhouse, a one-room schoolhouse, is owned and operated by The Hilltop Guild and will be open August 6 for docent-led tours. It is located within walking distance of Kelley House and will be open from 10 a.m. to 2 p.m. It was built in 1888 and restored by Guild members in 1996.
The Guild invited the Bloodmobile Vitalant to come to their annual bazaar, but at the last minute it became unavailable. Instead, a traditional blood drive will be held at the Allenspark Fire Department in the Community Hall on August 6 from 9 a.m. to 4 p.m. Please support this important service. Register in advance at www.vitalant.com.
A felt pin course was held at Kelley House on July 20 with the participation of seven enthusiastic "students". More than a dozen darling cat pins, dog pins and garden pins will be available for sale at the bazaar.
Another crowd favorite at the bazaar is the country kitchen. But come early!
"We will be selling a variety of delicious baked goods, from cookies to pies," said Kitty Burton, president of Country Kitchen. "In addition, fudge, peanut, and sweet and savory breads will be available."
Artisan sandwiches (think chicken, apple and bacon on a roll) will be available for a take-out lunch. Come early for the best selection. A hot meal will also be provided.
Inside Kelley House, the shop will offer handcrafted items, from coasters to felt pins, from embroidered cotton tea towels to scrubs. Local weavers have made a selection of rugs, bags, laces, shawls and scarves. Imagine a beautiful shopping bag made of recycled plastic bags!.
The White Elephant will offer a range of kitchen equipment and small household and decorative items, including framed artwork. Books and puzzles will be on sale in the book barn. A few small pieces of furniture will also be available for sale, including four patio chairs. Hair on Wheels will once again be coming to the Bazaar offering almost free haircuts for a small donation.
Live music will alternate between the Railroad Ramblers and Shazza (Sharon Arms) and Steel.
Best of all, the money raised at this annual event will go directly back to the community in the form of scholarships and charitable contributions.
Check out the Guild calendar and photos by visiting www.hilltopguild.com. Hilltop Guild events will continue into the fall with a fall festival and fundraiser for local firefighter Will Heath. Stay tuned!
On. August 20 The Hilltop Guild partners with The Old Gallery to host the annual Hogabluesa blues festival on the grounds of Kelley House at 18720 Highway 7 in
Allenspark from 6 p.m. to 9 p.m. Dinner, prepared by Smokin' Daves, is $40 and advance tickets must be purchased online at the Old Gallery. Enjoy live music from a returning favorite Mojomamma.