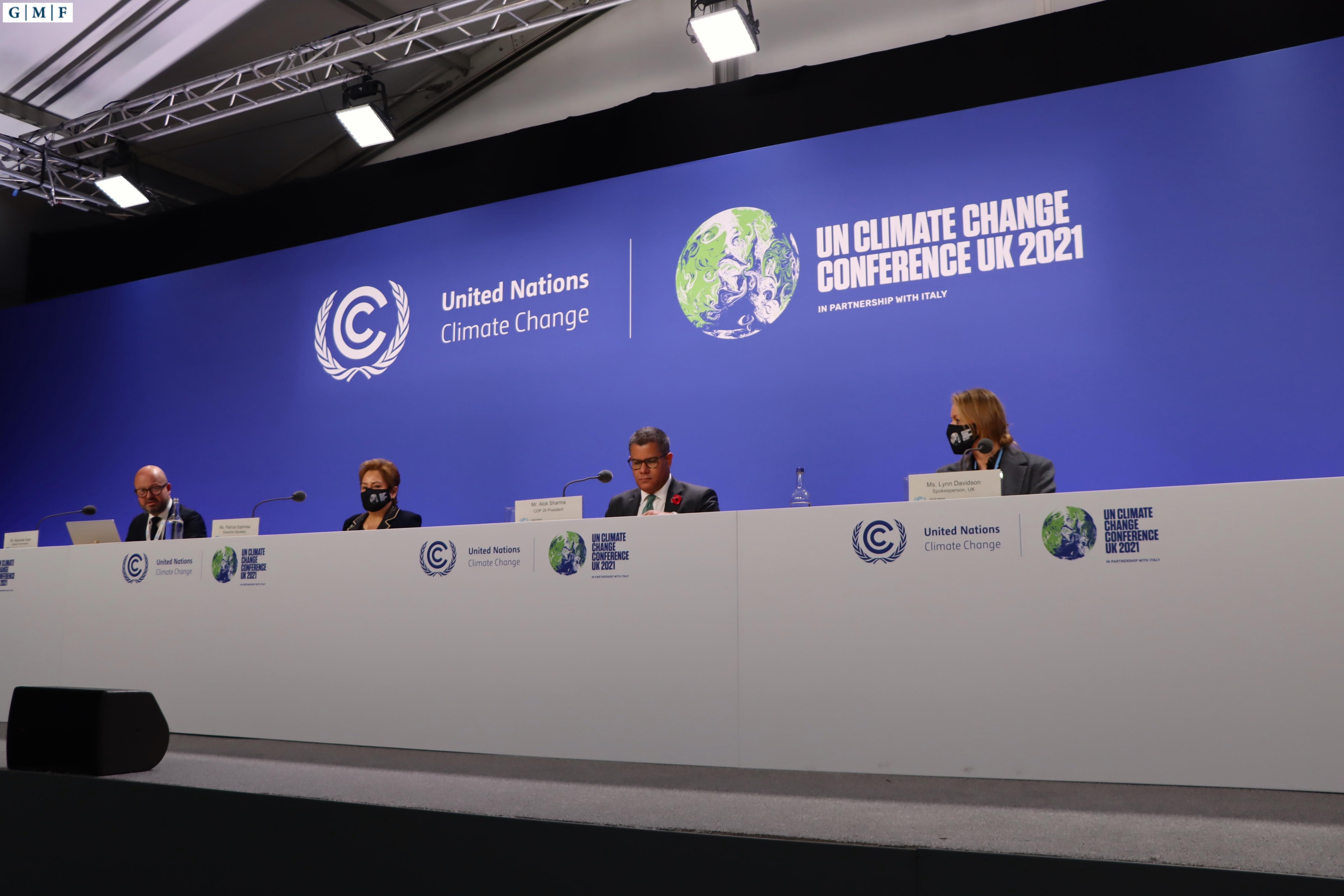 EU-US energy cooperation to fight climate change
Massive efforts are needed to urgently mitigate greenhouse gas emissions and, in parallel, support adaptation measures for those already affected by its negative impact.
On the occasion of the EU-US Energy Council in February 2022, it is useful to recall the dramatic impact of the European recovery program – the Marshall Plan – on the reconstruction of Europe; that the financial, technical, and political support of the United States to former friends and foes in Europe was essential to restore democracy and growth in a Europe devastated by internal conflict and war. Seventy-five years after Secretary of State George Marshall announced the plan, and 50 years after the creation of the German Marshall Fund to strengthen transatlantic and international cooperation, the time has come to reflect on how European powers and can work together globally to address climate change immediately, adequately and innovatively to ensure global prosperity and democracy. Cooperation of transatlantic powers to transfer regulatory best practices and new technologies in the clean energy transition can help all global partners achieve net zero emissions by 2050. In addition, technical and financial assistance to those suffering the more of the consequences of climate change must be provided to help them take urgent adaptation and protection measures.
Now is the time to reflect on how European and American powers can work together globally to tackle climate change immediately, adequately and innovatively to ensure global prosperity and democracy.
What would a "modern Marshall Plan" for the energy transition of the transatlantic partners look like?
Energetic efficiency
Recognizing that energy efficiency should be a first principle of all energy systems and in all states, the United States and the European Union can cooperate and lead new digital and other innovative technologies to reduce energy consumption. energy, reduce greenhouse gas emissions and improve energy efficiency. As a principle to be applied worldwide, they can provide know-how to others to improve the efficiency of energy consumption.
Electricity
"Greening the Grid" is an important priority for both the US and the EU. Cooperation on better regulation for the integration of renewable energy sources into electricity networks should enable and encourage better digital management of networks in order to guarantee an efficient match between demand and supply of renewable energies. In addition, better interconnections (new and more extensive infrastructure to extend and diversify supply sources and respond to demand) will give others a boost to exhibit technical efficiencies that help increase the level of energies renewables in electricity supply.
Increased investment in renewable electricity sources from private and public funds will help increase supply and reduce costs for consumers.
Hydrogen
After better management of electricity networks and an increased supply of renewable energy, "surplus" renewable electricity can be used to generate clean hydrogen. The US and EU have already begun to cooperate bilaterally and multilaterally to advance a hydrogen market and need new regulatory, infrastructure and investment momentum to ensure that this component of the energy mix is ​​in place and operational on a large scale. Hydrogen storage can be used to offset the variability of renewable electricity.
With respect to hydrogen generated from natural gas, better and more efficient carbon capture and storage technologies at lower cost should be promoted to ensure that 'blue' hydrogen can be scaled up as a transition in parallel with the development of "green" hydrogen. . The cost-benefit analysis will depend to a large extent on market prices for natural gas; his availability; costs of carbon capture, use and sequestration (CCUS); and alternative sources for hydrogen production. Nevertheless, for many countries, hydrogen will be an important part of the future energy mix and efforts to encourage and contribute to regulatory and technological improvements can advance this development.
Natural gas
Natural gas will continue to play a key role as a transition fuel in the clean energy future. Replacing coal with natural gas can cut greenhouse gas emissions in half, but access to supply, and at a reasonable price, will be a big factor. Given the current high cost of natural gas in many parts of the world, more supply at lower cost will be needed to encourage this shift.
Gas as a storage and backup fuel for electricity supply will also continue to be important during the transition period, and joint efforts to reduce methane emissions (as announced at COP26) will be crucial to create greater public acceptance of the use of natural gas while increasing production from renewable sources.
The supply of natural gas and the role of international markets are essential to the proper functioning and application of natural gas as a transition fuel; both the US and the EU should continue to strengthen regulatory provisions to encourage the efficient operation of these markets.
Nuclear
An important feature of the common interest in nuclear energy between the United States and the European Union has been cooperation in nuclear safety and security. While some EU Member States are categorically opposed to the use of nuclear energy in their country, others wish to improve, develop and modernize clean, efficient and safe nuclear energy and to use new and innovative technologies to achieve these goals. The work of the Euratom Treaty and the European Commission's Joint Research Center for Safety and Security of Nuclear Fuel and its Installation is an important contribution to EU-US cooperation.
In addition, the cooperation between the two on the International Thermonuclear Experimental Reactor nuclear fusion project, which includes other international partners, is expected to continue, as it provides a good example of innovative international cooperation on a new energy source." moon shot".
Just Transition
It is clear that the clean energy transition will have winners and losers. Workers dependent on jobs in coal mining and processing or servicing internal combustion engines will find that the demand for their services will decline over time. New jobs, retraining and the ability to use their skills and experience to develop new markets will be key to encouraging these workers and their families to see the benefits of the clean energy transition. Government support for them will be a fundamental factor in securing public acceptance for the many changes to come.
Again, leading by example how new jobs are created through greening energy systems, providing support to workers and families impacted by the transition, and shifting to efficient, green and energy-creating technologies. jobs will give impetus to other countries. to take similar measures.
Loss and Damage Fund
With regard to adaptation to climate change, perhaps one of the most important symbolic contributions that the European Union and the United States can make is to honor their commitments to the promised loss and damage fund. during COP21 to help the populations of the countries of the South who have been most affected by climate change. change and will continue to suffer its effects. This does not exclude other bilateral or multilateral actions they may undertake to provide financial and technical assistance to the most seriously affected countries and regions.
The 2022 EU-US Energy Council meeting will be an opportunity for transatlantic partners to enhance their mutual concern and cooperation on practical implementation measures in the context of the clean energy transition and to offer the world an example of how change can drive sustainable growth and prosperity. . Together, the European Union and the United States must lead the global effort towards an efficient energy transition that benefits everyone.