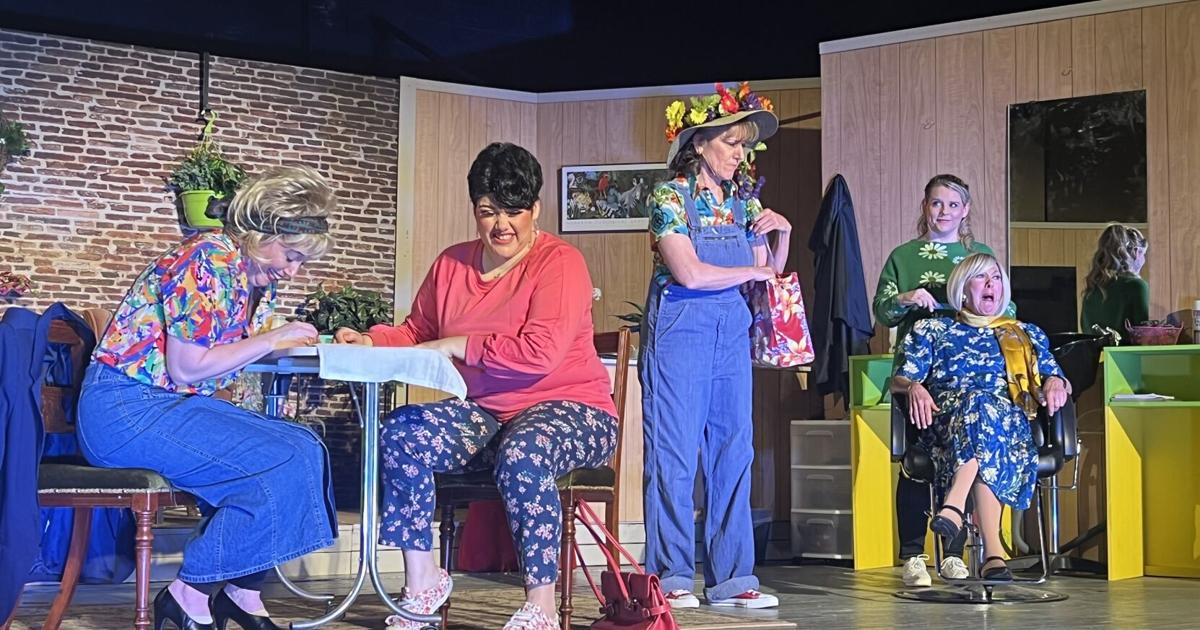 THEATER REVIEW: Steel Magnolias delivers the goods | Columnists
"Janice is the wife of the current mayor. We hate her. While not a one-liner that sums up the whole piece, these few words spoken by Dixie Dorsett's Clairee struck me as the perfect way to get a review of "Steel Magnolias." All the time spent enjoying this stage and screen classic has been filled with borderline-perfect one-liners.
An extremely well-acted production is what awaits theatergoers in downtown Palestine for this show. Director Carol Moore showed off her formidable skills, extracting fantastic character studies from a cast that included longtime veterans and newcomers alike.
The story is well known. A close-knit group of women navigate life from their headquarters at Truvy's Beauty Shop. And life comes to them full steam ahead.
Being a PCT dinosaur myself, a relic of the dark ages of Texas theaters, I knew what to expect from the directorial talents of Ms. Moore as well as several cast members. Truvy, the glue that holds the band together, is played to perfection by Cassie Severn. Cassie is a long-time veteran of the area's theater community and, as usual, delivers a near-perfect performance. She ships Southern beauty salon wisdom at a rapid pace while projecting a familiar character we all feel like we already know. I was sure I had had my hair cut a thousand times by her over the years. Then there's Clairee, the former mayor's wife and local socialite, brilliantly played by Dixie Dorsett. I'm a big man with no sense of style. I wear my "good flip flops" at social events. Even I want to spend a day shopping with Clairee.
And that's exactly where my expectations ended.
Brandi Derr, who does a fine job playing M'Lynn, has done several shows with PCT, but she came on long after I fossilized, so her portrayal of a worried mother trying to help her troubled daughter health to navigate through life was an eye-opener for me. By far the toughest role in my opinion, Brandi brings a level of emotion and, for lack of a better word, motherhood to a part that isn't laden with punchlines and makes it feel very real. She also has one of the most epic hairstyles ever performed on stage.
Corie Mason-Best and Tonya Johnson, both newcomers to the PCT, play Shelby and Annelle respectively, and do a great job. Corie's Shelby is central to much of the show's emotion. She tackles joy, tragedy, and an overprotective mother with the kind of skill that invites audiences to sit beside her for the ride. Tonya's Annelle navigates a literal on-stage metamorphosis, going from a quiet introvert, unsure of her place in the world, through several stages that eventually turn her into the cast's spiritual compass. Its development is an absolute pleasure to watch.
The biggest surprise for me, however, was Kathrine Newton's Ouiser. Having spent many hours on stage with Kathrine, I know her best as Miss Fleur, the school mistress and Sheriff Rex King's main love interest during what has seemed like a lifetime of summer melodramas for the past few years. Miss Fleur did not come on stage. She was floating. My guess was about two inches above the ground on a cushion of air. Her lines were delivered looking skyward, lashes fluttering like tiny butterflies…
Miss Ouiser has nothing to do with Miss Fleur.
Kathrine has found her inner Ouiser and hits the audience with her like she's wielding a big piece of wood. Armed with some of the funniest and wackiest lines in the room, I walked away wondering if Ouiser was based on my own neighbor when I was a kid. Probably not, but wow…that was close.
Overall, the production is fantastic. It's easy to see the many hours and sacrifice the cast and crew put into production and it shows in the final product.
Steel Magnolias runs from Friday April 1 through Sunday April 3. Tickets are available in advance at PCTBoxoffice.com or you can purchase them at the door. The historic Texas Theater is located at 213 W. Crawford in downtown Palestine.