'They want to kidnap us and take the rock,' say Zimbabweans living near Chinese-owned mines | Global development
A convoy of trucks laden with huge black granite boulders rolls along the dusty path under the ominous gaze of a group of villagers.
Every day, more than 60 trucks transport granite for export along this rugged road that runs through the village of Nyamakope in the Mutoko district, 90 miles east of Zimbabwe's capital, Harare.
The air reverberates with explosions and the sounds of heavy machinery as the mountain above the village slowly shrinks, slab by slab. Quarry exploitation has been practiced there since the 1980s.
Mutoko stone is sought after for its brilliance. It is a popular material for tombstones. An extension of the Royal Danish Library in Copenhagen, known as the Black Diamond, is clad in Mutoko granite.
Buja residents who live here say that when mining companies extract wealth from the mountain, they leave behind a trail of damaged roads and bridges, dangerous pollutants and dirty air. Cracks can be seen on the houses and explosion debris is everywhere.
Today, 50 families in the village have been told by a Chinese mining company that they will have to leave their homes and land. Residents of four other villages in the district fear losing their ancestral lands as well.
Two families, including an 82-year-old villager and his wife, have already been relocated by the mining company Jinding, which wants to build a polishing plant.
"The 82-year-old collapsed on hearing the news because he had never anticipated it. He was then resuscitated at the hospital. That's how bad things are here, "explains Claudine Mupereri *, 38 years old.
She says the man was informed that his house was in the area authorized for the mining company by the government. from Zimbabwe Law on Communal Areas gives the president the power to decide on the use of an area that represents 40% of the country's land, which is home to around 70% of the population.
"These companies do not respect communities. If the government does not protect us, then where will we get the protection we need? Said Mupereri.
Two other families have received $ 2,500 (£ 1,840) to rebuild their homes, but community leaders say it is not enough.
"There is uncertainty around this village. Right now, we don't have anyone willing to help us because our advisor doesn't want to help us. Anyone who dares to speak out is threatened. Whether they take us away or not, we are already afraid to speak, "says Anesu Nyamuzuwe *.
The 40-year-old father of four fears losing five hectares (12 acres) of land, his only source of income.
"I have a good farm with fertile soil. My agriculture still meets the needs of my household. I had built a good house and I'm close to the center of Mutoko, so I'm not sure I have such a lot again, "he says.
"What is more important, the investors or the villagers? We should have the right to deny these people entry into our community.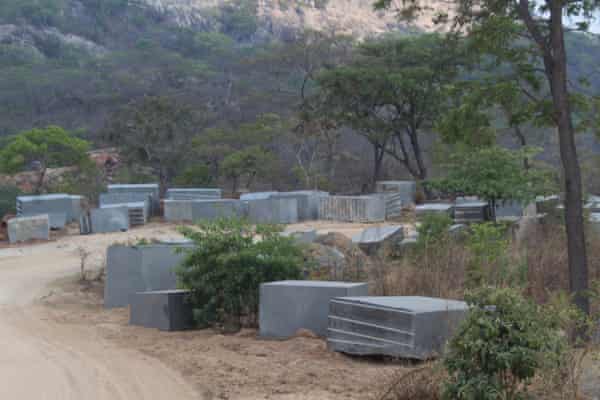 The Jinding mining company in China could not be reached for comment.
A manager and interpreter at the company's factory in Mutoko said that families who live on the 500 hectares that the company is allowed to operate will be relocated, but adds: "the people who give the claims [to mining companies] have a problem. Why do they give them [companies] so much land? This land is almost 500 hectares, I'm sure they already know people live in this place.
Zimbabwe has enjoyed close relations with China for decades. But the bond between the two countries solidified when Western states imposed economic sanctions on the government of Robert Mugabe. As credit and investment dried up, China stepped in.
In 2018, relations between Zimbabwe and China went from "all time friends" at Strategic partners, paving the way for Chinese investors to invest money in the country, especially in the extractive industries, where they have been accused of paying little attention to the environmental damage caused by the human rights activists.
Those who live near the granite mines claim that companies are failing to restore the land after mining. Open pits are left uncovered, endangering children and wildlife.
Zimbabwe's government has been accused of turning a blind eye to the complaints because critics say it does not want to anger its biggest investor.
The miners talk about bad working conditions. In another mine in Mutoko, workers say they were beaten and poorly paid.
"Imagine going to work every day for over 12 hours and getting $ 50 at the end of it. When I get home I am tired. My house has no peace, "a worker told The Guardian.
"My friend was beaten with a steel bar and another 17 year old boy had his arm broken after arriving late for work. He received $ 250 in compensation after the villagers complained. "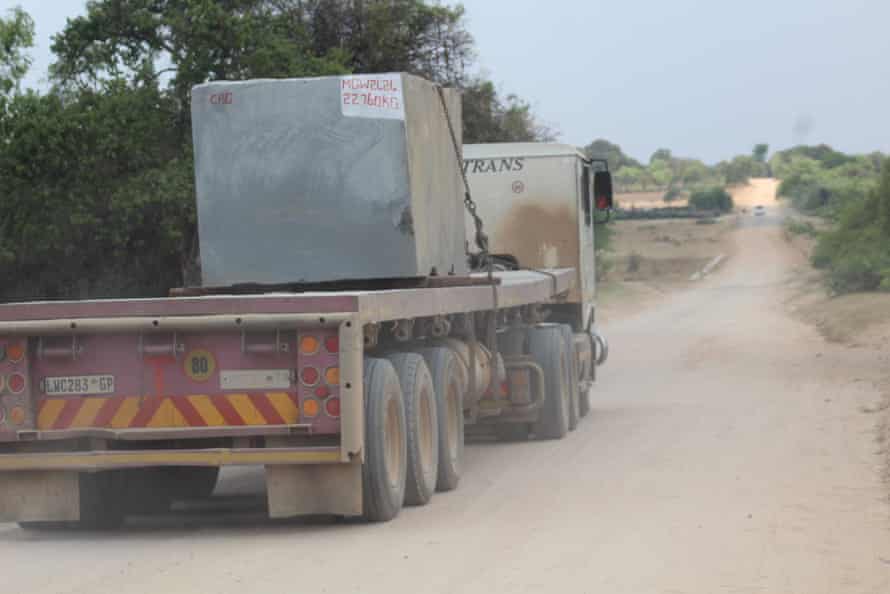 In 2020, two workers were shot and wounded in Gweru, central Zimbabwe, allegedly by a Chinese miner after a wage dispute.
Evelyn Kutyauripo, a legal assistant with the Zimbabwe Environmental Law Association (Zela), who has rallied the villagers of Mutoko to resist evictions, said local authorities must protect people.
"I blame the chiefs and councilors for working with the Chinese. They should stand with the community, "she said, adding that businesses take away from communities and don't help them grow.
"They are not developing anything in the community. They should have strong corporate social responsibility because they are killing our environment. We are suffering, our houses are cracking and there is pollution. The government should come and see what is going on.
Another Chinese mining company, Shanghau Haoying Mining Investments, is also worrying the villagers of Nyamaropa.
Last year, the company reportedly obtained a government license to mine granite from locally owned plots.
"I hear they want to take us away so that they take the rock, which is below, but people don't want to. They will have to use firearms to expel us here, "explains Gladman Murape *, 34 years old.
Shanghau could not be reached for comment.
Richard Ncube, a lawyer in Zela, said residents of Mutoko were "extremely worried" about the evictions. "The main challenge is that they are living in the dark and they don't know what's going to happen. "
He said people were too scared to challenge the company. "We understood that most communities [in Mutoko] are afraid to come forward and take these cases to court because of intimidation and fear of being victimized, "says Ncube.
Attempts to challenge mining companies elsewhere in Zimbabwe have had mixed results.
In November, the Heijin mining company lost his mining license in Murehwa, a district about 90 kilometers from Harare, after local leaders complained to the government that the company was planning to evict residents.
In 2020, Zela got involved in the victorious fight for cancel licenses to mine coal in Hwange National Park, the country's largest national park, home to 40,000 elephants. Following protests, the government has banned mining in all of its national parks.
However, in September, hundreds of people in Chikomba district, 130 kilometers south of the capital, were evicted from their ancestral homes to make way for a billion dollar iron and steel mining project.
Zimbabwe's government says it has not received any reports of abuse of workers in Chinese-owned mines, but has encouraged workers to report any incidents.
Deputy Mines Minister Polite Kambamura urged villagers to contact the ministry if they had any problems.
"We haven't heard of any Chinese companies relocating people to Mutoko. If the villagers are not happy, they can contact our provincial mining office in Marondera or come directly to the ministry, "he said.
"We understand that if ever a business wants to relocate people, it should involve the community, to buy that social license from the community. "
Kambamura adds that an environmental impact assessment – to ensure that the environmental, social, economic and cultural issues associated with any mining project are taken into account before it begins – must also be carried out by the company and must address all concerns.
The Chinese Embassy in Zimbabwe did not respond to numerous requests for comment. Mutoko executives have also been approached for comment.
* Names have been changed
Sign up for a different perspective with our Global Dispatch newsletter – a summary of our top stories from around the world, recommended reads, and our team's thoughts on key development and human rights issues, delivered in your inbox every two weeks: