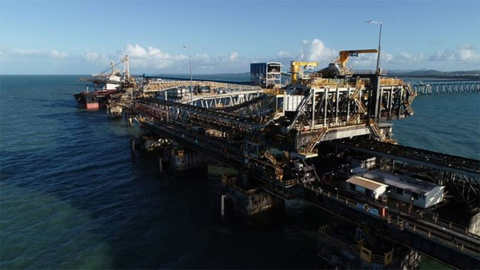 Trelleborg supplies Australian ship loader, berth replacement project
Passive grout joints and grout seals prevent leaks to protect the biodiversity of the Great Barrier Reef
Queensland, Australia – Trelleborg Marine and Infrastructure is participating in a Ship Loader and Berth Replacement (SABR) project which aims to improve operational safety and efficiency at Hay Point Coal Terminal, Mackay, Australia. queensland.
The Swedish engineering group will provide passive grout joints, inflatable grout seals, mud diaphragms, quick release hooks, remote release system and mooring load monitoring system for the project at Pier 2A, a June 7 statement said.
The project involves the dismantling and replacement of one of the existing berths and ship loader, to enable the terminal to withstand future cyclonic weather events and ensure the long-term sustainability of the operation.
Trelleborg's passive seals and inflatable grout plugs promote grout curing by creating a strong bond between the pile and the steel casing structures, and ensuring that no leaks can occur during installation. grout.
This minimizes the impact on the biodiversity of the Great Barrier Reef.
Jacket structures are installed at each end of the existing quay to extend the stroke of the ship loader by over 40 metres.
According to Trelleborg, the grout plugs are made from reinforced rubber and undergo strict pressure testing and weld inspection.
Trelleborg said it uses finite element analysis (FEA) to check rubber seal deformation at maximum holding pressure.
Quick-release hooks allow mooring lines to be secured securely and released quickly and easily.